Despite always giving homage to our founding fathers, it must be known that we also have a founding mother: Mary Katherine Goddard.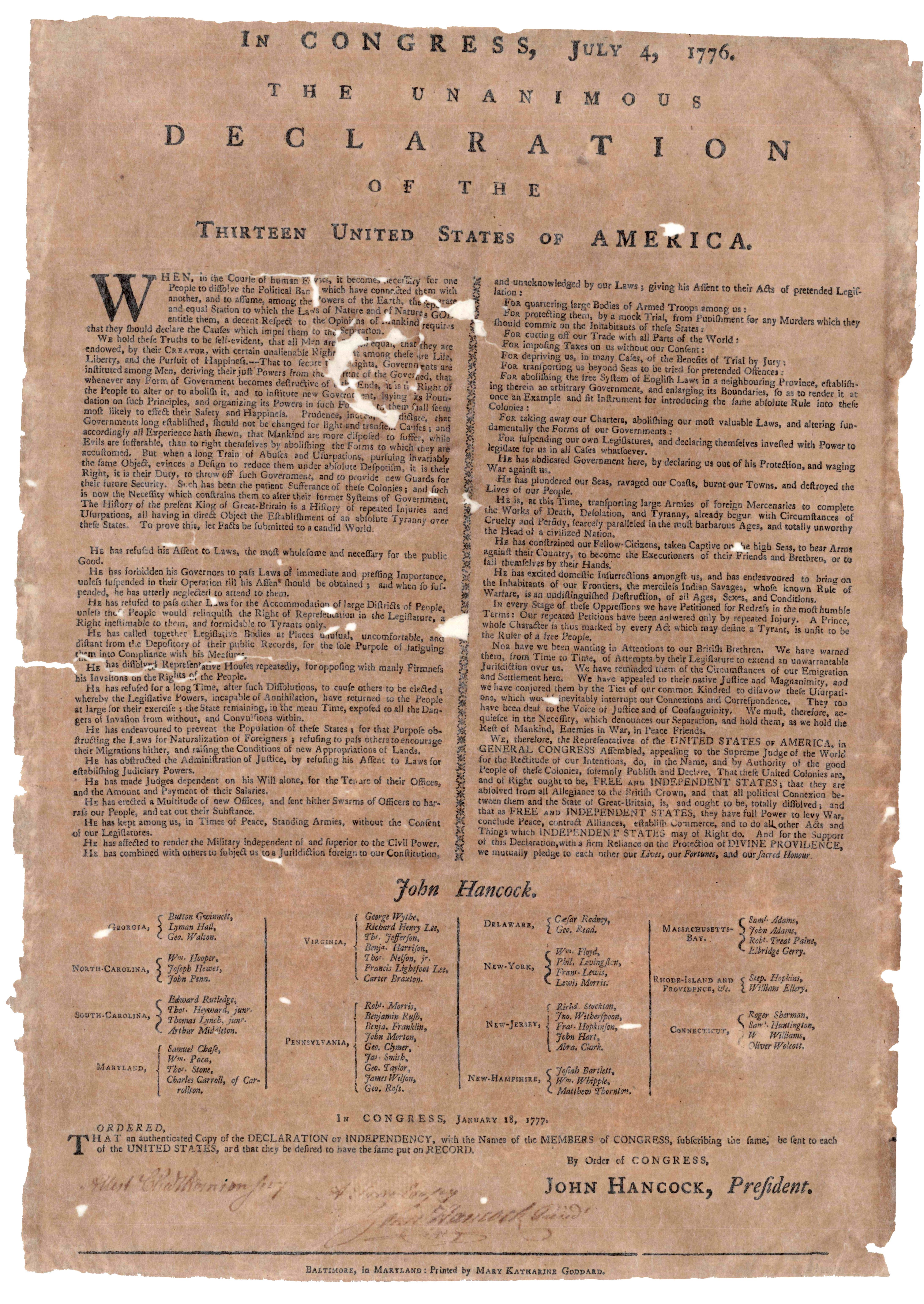 Zoom in on the bottom of the first printed copy of the United States Declaration of Independence and you notice a woman's name rarely mentioned in history class. It reads: "Baltimore, in Maryland: Printed by Mary Katherine Goddard."
On January 18, 1777, as postmaster of Baltimore and publisher of the Maryland Journal, Goddard was issued the task of publishing and circulating the first official copy of the Declaration of Independence listing most of the signers (out of the 56 signers, 55 signatures were present. Thomas McKean signed much later).
Even though Goddard's newspaper published the newly drafted Declaration of Independence on July 10, 1776, it wasn't until January 1777 that she made her historical imprint. Harvard University Declaration Resources Blog writes:
The Goddard Broadside was the first printed version of the Declaration of Independence specifically intended for preservation. It was the first printed broadside to use the title "The Unanimous Declaration of the Thirteen United States of America". It was the first version of the Declaration to list the names of (most of) the signers. And, it is the only "official" version of the Declaration of Independence to be printed by a woman. Mary Katherine Goddard's imprint at the bottom of her broadside proudly presents not only her full name, but also the city where Congress met for two crucial months, and where she lived and worked for over forty years
Goddard's role in facilitating America's independence was crucial. "When British troops got dangerously close to Philadelphia, the Continental Congress evacuated to Baltimore and made the Henry Fite House their headquarters, from Dec. 20, 1776, to Feb. 22, 1777. During that two-month period, Mary Katherine Goddard was not only publishing a newspaper, but also overseeing delegates' mail and the printing of Congressional documents," reads an article of Goddard in TIME magazine.
The Maryland State Archives describes Goddard as "an independent business woman." It writes that "she made her own money and lived by herself. She embodied the revolutionary spirit of casting aside traditional roles and embracing a new independent spirit."
Despite Goddard's significance and contribution, it's baffling how we rarely, if ever, hear of her.
Petula Dvorak from the Washington Post writes that "if you've never noticed it or heard of her, you aren't alone. She's a Founding Mother, of sorts, yet few folks know about her. And some of America's bureaucrats did their best to shut her down."
In 1789, the new postmaster general Samuel Osgood removed Goddard from her post. According to Harvard University's blog, Osgood gave the excuse that the postmaster position demanded more time on the road and away from home than a woman could manage.
And so, in honor of America's Independence, let's not shut down the memory of a woman who so courageously embodied everything there is to celebrate about asserting one's independence.